MuslimCafe.tv
MuslimCafe.tv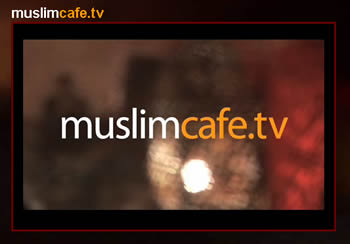 Navid Akhtar – journalist, broadcaster and documentary film maker – invited me to the launch party of Gazelle Media's Muslim Café TV project on Thursday 15th November 2007. I have known Navid for quite some time and there are certain issues that I have commented upon on in MasudBlog that he has found interesting, we share a common interest on certain community issues and we have distant family link as well!
Muslim Café TV is a web Video on Demand project where people are invited to come and visit the café, sit down and discuss contemporary issues affecting Muslims. Contributors are from all walks of life, Muslim, non-Muslim, practising, non-practising. No issues are taboo to discuss and they take a "non-judgemental" approach to people and topics. The emphasis seems to be on Muslim culture, sociological and related issues rather than out and out religious ones.
The launch event itself was held at Asia House and was a real media event with journalists and other media people milling around. Navid Akhtar gave a short introduction about Muslim Café TV and thanked everyone for attending and then showed a short promo film about the project. It started with a close-up camera shot of the eyes of a woman in niqab with Phil Collins' "I can feel it coming in the air tonight" playing in the background. This was a parody of the chocolate advert with the drum playing gorilla, only we had a woman in niqab and full black jilbab launching into a drum solo aping the advert (pun intended). Whilst it raised a few chuckles at first, I thought it just dragged on for far too long to leave an lasting comic effect. The promo then dipped in and out of the various films that are on the Muslim Café TV website that gave a taste of what Muslim Café TV is all about. Aziz Ibrahim, the guitarist for Ian Brown (ex Stone Roses lead singer) finished off the proceedings with a short set (bit too loud for the room he was playing in and for my liking) and then there was some tasty pan-Asian finger food and general chit-chat and networking.
Overall, I think the project is interesting and will serve a very important function and that is to discuss issues relating to Muslims but not exclusively for Muslims, the issues will also be discussed on a new-media public forum with, potentially, an audience of millions. If you are looking for a forum that will overtly promote Islam, its beliefs and practices then you are going to be very disappointed and this is not what this project is about. Most "religious" Muslims will probably find it difficult to see past the very liberal atmosphere and environment of this project and that, I think, is understandable since it is aimed mainly at the non-Muslim audience and is in essence a journalistic endeavour.
I was talking to a few people afterwards about the issue of liberalisation and there was a genuine concern that there is a danger that platforms like this will erode Islamic beliefs and practices and whilst not really offering guidance on issues there is a danger of misguidance, since topics get discussed from all angles, the viewer is left to make up their own minds on the issues. Whilst this may be good for issues that are essentially areligious and for non-Muslims, when religious topics get discussed that delve into matters of faith and practice there needs to be some authoritative underpinning to the discussions.
On the whole I am very positive with regards to Muslim Café TV and think it will be a welcome addition to the online Muslim community and will be a very good tool for da'wah and representation of Muslims and their issues in these troubled times.