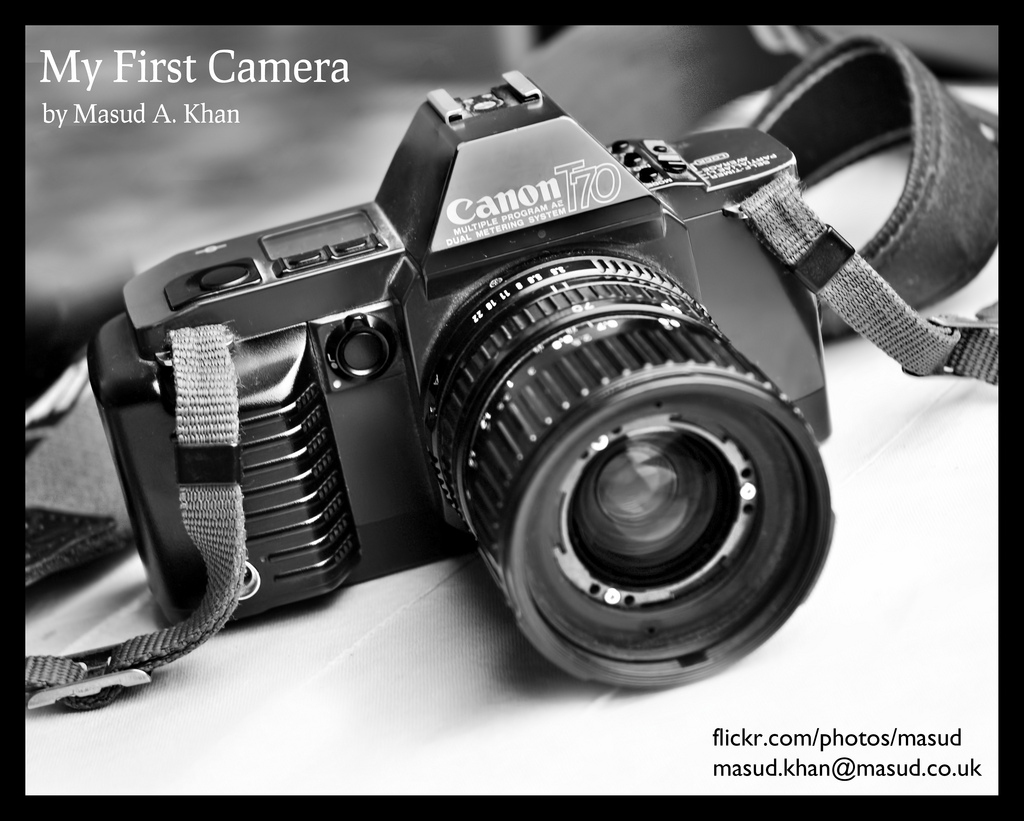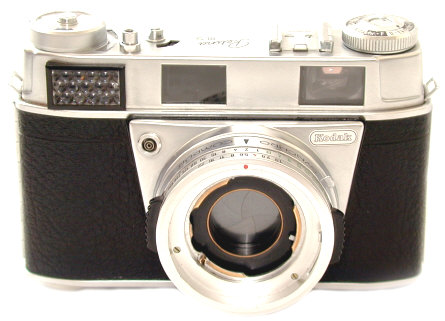 Some of you may find this interesting and useful. This is how I got into photography.
As many of you know, I am a keen advanced amateur photographer. I have been into photography from an early age, ever since I got my hands on my father's Kodak Rangefinder camera in the mid-80s (similar to the image on th right). I lost my father's camera when my car got broken into at a Kung Fu tournament in Leicester (I used to be a practitioner of Lau Gar Kung Fu).
At the age of 19, I purchased a Canon T70 SLR (that's my actual one in the image on the left). It cost me the princely sum of £380 which I purchased on 10 months interest free credit from our local Dixon's store. I used to work at the local cinema as I was doing my A-Levels at the local college and I was surprised I got credit so easily. The T70 was the latest of a new generations of SLR cameras with an integrated LCD display. I had great visions of making eye-popping photos now that I had a pro-camera….The reality of the situation was somewhat different. I had no clue what I was doing and I soon came to the realisation that I had to firstly learn photography properly with the technical aspects of it and secondly I had to experiment. The first thing I learnt was that the camera's aperture setting allowed me to control the depth of field. A wide open aperture would give me a lovely blurred background that would make for pleasant portrait shots. However, most of my photographic endeavours were hit and miss and pretty soon I realised that with the cost of film and developing it would be a very expensive hobby, so I used my camera sparingly. The good photos I took soon earned me the reputation as the family's photographer. Over the years, however, I took less and less photographs and didn't really learn or push myself to learn all the aspects properly and once I settled into my professional life and career, the camera found itself on a shelf gathering dust and was used by a friend of mine to take photos at my wedding in Pakistan. The camera soon returned to the shelf and came out now and again.
It was in the early 90s when I first met and got to know the photographer Peter [Abdal Adheem] Sanders. I was awestruck by his photography and my interest in photography was again ignited, but this time it was with a bit more seriousness and a bit more passion. The cost of film and processing was prohibitive and I ended up studying photography (as a hobby) rather than actually taking photos. I read various photography books and looked at other photographers and their photos to get a sense of what can be done with a camera. At this stage I didn't consider myself a photographer and never mentioned to Abdal Adheem that I had a camera or that I had an interest in photography other than an admiration for his work.
Upon the arrival of my first child, in 1995, the camera was once again dusted off and used and I managed to get some really nice photos of the new arrival and I used it on and off taking pics of my son as he was growing up and of my second son when he arrived. The camera was used infrequently and came out only when we had birthdays or family visits. It was very rare that I experimented. The time I had used to read up about photography was beneficial but I was still lacking the technical expertise of photography, which is essentially controlling light properly. My compositional skills had improved but my photos, with a few rare exceptions, still looked like "snaps" rather than anything arty and "professional" looking that I so desperately wanted to achieve.
In the late 90s digital photography had started to become accessible and almost affordable. The technology wasn't quite ready to replace film. Most affordable cameras were 3.1 megapixel point and shoot. Digital SLR cameras were prohibitively expensive and still not an adequate replacement for film cameras. I started looking at various digital cameras and in 2001 I saw that Fujifilm had released the F6800 a 3.3 megapixel camera that allowed manual control of shutter and aperture and this immediately stoked my interest as the possibilities for experimentation opened up without worrying about wasting rolls and rolls of film and processing. So I took the plunge and bought one. It cost about £400 but I was working as an IT contractor on a decent hourly rate and the purchase would be classed as IT equipment and so would be a "tax efficient" purchase. This is what I had been waiting for, a camera that I could experiment with to my heart's content. It is no exaggeration to say that I used this camera to its fullest and learned technical photography properly. I rarely shot on auto and nearly always on Manual or in Aperture priority.I had this camera just under a year and then it stopped working. I called FujiFilm support and they offered me a discounted upgrade to their newest camera, the 6 mega pixel F610. It was similar to the one I had but better sensor and better optics. Around this time there was a family wedding in Nottingham and I decided to photograph the wedding. We were with the groom and I took photos at every stage of the wedding day and put it all together as a slideshow. I added titles, music and swipe and fade effects and it worked really well.  You can see some of my FujiFilm efforts here http://www.flickr.com/photos/masud/129499278/in/photostream and all the photos after this are pretty much on my FujiFilm cameras.
My experimentation continued and I pretty much learned the technical side of photography properly. I was ready for a D-SLR!